American Airpower Museum is proud to host an Honor Flight Long Island Reunion on December 2nd 2023, reuniting 45 Veterans who took a free Honor Flight to Washington, D.C. on September 29, 2023.  These Long Island heroes visited their military memorials, commiserated with fellow Veterans and exchanged stories.  Honor Flight's mission is to honor fellow Long Islanders who served in the Armed Forces of the United States, by providing all-expense paid one-day trips to D.C. for the Veterans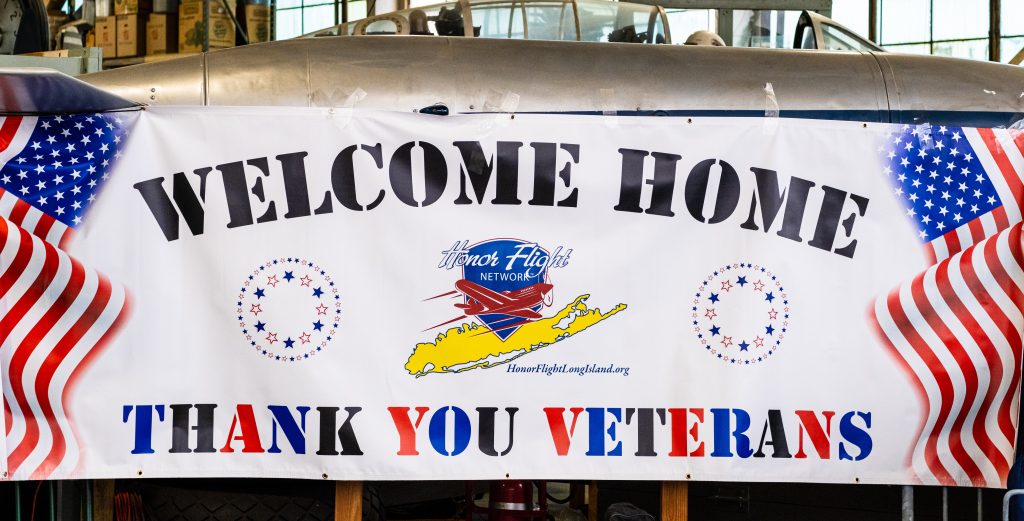 Thanks to HFLI, these 45 Veterans took a free, early-morning Southwest flight from MacArthur Airport to Washington, D.C.  Veterans, their Guardians and Honor Flight officials visited World War II, Korean War and Vietnam Memorials, Arlington National Cemetery for a "Changing of the Guard," the Air Force Memorial and Iwo Jima Memorial.  They returned to MacArthur later that evening for a rousing welcome home by the Saffron United Pipe Band, plus thunderous applause from hundreds of family, friends and supporters!
According to Bill Jones, HFLI President, West Point 1972 Graduate and U.S. Army Veteran, "This special flight included 42 Vietnam War Veterans who received long overdue recognition and thanks for their service," Jones said.  "They were accompanied by 3 elder comrades, 1 World War II Veteran and 2 Korean War Veterans.  What this flight really represented was a 'Big Hug' to all our Veterans from Honor Flight, their families and supporters, who make such flights possible," Jones added.
On December 2nd the Museum doors open at 10:30 a.m. and the reunion runs from 11:00 a.m. to 1:00 p.m. at AAM's Hangar 3, 1230 New Highway, Farmingdale, NY.  Admission for the Veterans, their Guardians and families, is free.  The public is also invited to attend FREE OF CHARGE if they arrive between 10:30 a.m. and 11:00 a.m.  After 11:00 a.m., regular Museum admission is $15 for Adults, $12 for Seniors and Veterans, $10 for kids 5 to 12.
Come and cheer these Veterans during our "Ceremony of Honors," as they receive personalized Tribute Journals full of photos taken during their D.C. trip.  This great patriotic event includes speeches by HFLI President Bill Jones and AAM President and Founder Jeff Clyman.  The U.S. Coast Guard Auxiliary Flotilla Band will play a popular patriotic medley known as the "Armed Forces Salute," featuring the five official musical themes of the U.S. Armed Forces:  Army, Marine Corps, Navy, Air Force and Coast Guard.  Free refreshments for all provided by HFLI.